Technical performance

1. Fengyu SF6 Retrieving Device can be used to extract, liquefy and store SF6 gas from the SF6 insulating equipment. The gas after SF6 retrieved complies with relating international standard.
2. To exhaust air and moisture from the equipment after SF6 maintenance.
3. To store the SF6 gas after it goes through the drying and filtration process.
4. To gasify the liquefied SF6 by decreasing pressure and refill the equipment from the store vessel;
5. The drying and filtration device can be activated and reused again.
6. Flexible pipes and joints are equiped for retrieving, storing and refilling processes.
7. General composition
(1) Fengyu SF6 Retrieving Device is composed of retrieving, filling, filtration, vacuumzing, storing and controlling systems.
(2) The device is with the merits of nice design, rust and shock proof, and high reliability.
(3) Easy and convenient for maintenance and operation
(4) Rotary parts are well protected for safety.
8. Features
(1) Vacuumize and check vacuum pressure for retrieving device itself including its storing vessel and pipes;
(2) Vacuumize and check vacuum pressure for the SF6 insulation equipment
(3) Retrieve, store SF6 gas and check the remaining vacuum pressure of the equipment;
(4) Get rid of moisture and other particulates in the SF6 gas with filtration and purification process;
(5) Refill up the SF6 gas into equipment to meet specified operating pressure.
9. Piping system
Well designed in a vertical or horizontal way, with all connecting joints reliably fastened, well sealed to airtight and dust proof.
10. Storage vessel
Designed, manufactured and checked in accordance with Chinese most strict GB150-89 standards for compressed vessels; the vessel is clean inside without remaining particulates, with rust-proof treated inside and well painted outside; it is equipped with pressure gauge, high pressure monitor and relief valve and liquid level monitor;
11. Gas retrieving system
It is composed of compressor, bumper, separator, filter, heat exchanger, safety valve, one-way valve, gas pressure gauge, pump, vacuum gauge, and freezer;
12. Vacuumizing system
It is composed of vacuum pump , vacuum gauge(sensitivity≥10Pa ), pump oil reflux-proof device, and exhaust pipe;
13. Filter
The filter is designed to efficiently remove moisture and solid particulates from the gas and prevent them to be carried downstream and also to remove the gaseous impurities originated from the SF6 electric arc decomposition. The retrieving system and refilling system have independent filters.
14. Valve
All valves are well sealed, no gas leak, easy operation and reliable, rust proof and long shelf life;
15. Control panel
Installed with imported pressure gauge(sensitivity ≥ grade 1.5), vacuum gauge, process diagram and operation guide, valve code, and inlet/outlet signal.
16. Instruments and Indicators
All instruments are well fixed with clear operation diagram, phase-sequence indicator and switch, automatic phase-change device, earth connection bolt and signal.

Technical Specifications

1. Appliance: indoors, removable cart.
2. Environmental temperature: -10℃~40℃.
3. Height above sea level: 2000m.
4. Ultimate vacuum pressure <10Pa
5. Vacuumzing speed: 14~200m3/h (subject to different types).
6. SF6 filling speed: less than 0.2 hour for 1m3 vessel from 133Pa to 0.7MPa.
7. Max. Gas store pressure: 4MPa
8. Gas retrieving pressure: primary pressure ≤0.8MPa, final pressure: ≤-0.05MPa or ≤10?33pa
9. SF6 retrieving speed (20℃): To retrieve 1m3 0.7MPa SF6 from equipment into 1m3 gas tank with primary pressure 2MPa, retrieving time less than 30 minutes when remaining pressure is 0.05MPa in the equipment, and less than 1 hour when remaining pressure is 10?33Pa.
10. Oil content control: <10μg/g.
11. Dust control: particulate diameter <20μm.
12. Gas store volume: 27~300liters.
13. Gas leak rate per year: <1%.
14. Non malfunction continuing working time: 1000h, total Non malfunction working time:5000h.
15. Noise: ≤75dB.
16. Power: 380v, 50Hz, 3 Phases.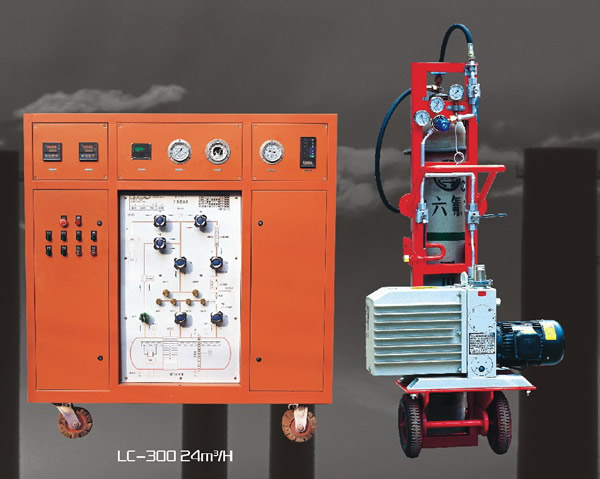 SF6 Retrieving Device Type & Model
1. HC series of high pressure retrieving device
Application scope: electric switch, retrieving in small quantity
Feature: High pressure liquefaction
| | | | |
| --- | --- | --- | --- |
| Model | Liquid store capacity | Retrieving speed | Vacuum pump speed |
| HC-30 | 30kg | 4 m3/h | 14 m3/h |
| HC-50 | 50kg | 4 m3/h | 14m3/h |
2. LC series of low pressure retrieving device
Application: GIS electrical switch, retrieving in big quantity
Feature: low pressure and freezing liquefaction
| | | | |
| --- | --- | --- | --- |
| Model | Liquid store capacity | Retrieving speed | Vacuum pump speed |
| LC-100 | 100kg | 12 m3/h | 28 m3/h |
| LC-150 | 150kg | 12 m3/h | 54m3/h |
| LC-200 | 200kg | 12 m3/h | 54m3/h |
| LC-250 | 250kg | 24 m3/h | 54 m3/h |
| LC-300 | 300kg | 24 m3/h | 100 m3/h |
| LC-500 | 500kg | 24 m3/h | 100 m3/h |
VC series vacuumzing equipment
Application: SF6 electric device vacuumzing
Model: VC-14, VC-28,VC-54, VC-252, VC-500
Major parts:
1. Vacuum pump(capacity 14m3, 28m3, 54m3, 252m3, 500m3)
2. Vacuum gauge
3. Ball valve DN 20
4. Flexible pipe DN20, 5m
5. Ultimate vacuum <10Pa
VCH series vacuumzing and refilling device
Application: SF6 electric device vacuumzing and refilling
Model: VCH-14, VCH-28,VCH-54, VCH-252, VCH-500
Vacuum pump capacity: 14m3, 28m3, 54m3, 252m3, 500m3
VCH series for vacuumzing and refilling of gas, movable, with flexible pipe and joints DN8 and DN20, ultimate vacuum pressure <10Pa
Major parts:
Vacuum pump

Vacuum gauge

Valve

Valve

Reducing valve

Joint DN8

Joint DN20

Flexible pipe